Costa Rica's peak billfish season is a glorious time of year.  Each year for five months from December through April the Central and Southern Pacific Coast of the country is blessed with calm seas, a near guarantee of perfect sunny weather, and healthy billfish populations most countries in the world would trade anything for.  Yet they say 'there is a runt in every litter', and in this case that would be the month of April.  Every year anglers and tourists flock to Costa Rica in December to kick off the new tourist season and celebrate the holidays, January and February fill up over half a year in advance as anglers try to lock in the top boats, and March is the busiest month of the year with the combination of it being the middle of peak billfish season, spring break for families, and a guarantee of perfect weather for people who are just sick of winter.  So what about April?  Why does it constantly get overlooked and regarded as yesterday's leftovers?  I've heard anglers say the sailfish are all 'fished out' come April and have grown weary of boats and ballyhoo, it's too hot, the seas are too warm, and it's too close to the "rainy season" so the billfish migrate north.  That is all speculation and hearsay, the only real truth is that every year is different and there is no guarantee which weeks or month will offer the best bite.  As you will see in our Costa Rica Fishing Report – April 2019, we saved the best for last!
April 2019 proved that it has every right to be mentioned as one of the five months of the 'peak billfish season' as the fishing was every bit as good if not better than the first four months of the season.  The month started off with monster reports of 15-20 sailfish bites the first week of the month, including 14 on the Open Fly and 17 on the Epic fishing from the Los Suenos Marina.  There were still a few yellow-fin tuna and big mahi around as well.  The second week of the month the bite pulled back a bit as most boats in our fleet were finishing with 5-8 sailfish a day.  While that's still nothing to complain about, many people began to think that was the beginning of the slowdown as we eventually transition into the green season here with the arrival of the May showers.  Turns out slow week was just that – a slow week – as the billfish bite ratcheted up to a level as high as we had seen in the 2019 peak season.  On April 15 Captain Alex Holden reported 18 sailfish bites aboard his Constellation, and the very next day the brand new Top Fly at Los Suenos released 18 sails and nailed a trophy 60 lb dorado! The rest of the week boats were reporting 15-20 bites a day with regularity, and the Go Fish even went 21 for 30 on sails on April 22nd.
The fishing was so good in April we had two different groups that had some amazing days fly fishing from Quepos.  The first was the Dawes, who visited us all the way from the UK and only brought trout fishing experience with them.  They missed out on 3 sails their first day, but learned quickly and finished with 4 yellow-fin tuna.  The second day they stayed inshore and landed a nice rooster, a monster needlefish, and missed out on three more rooster bites.  The second group was actually one of my childhood friends, now an avid fly fishermen in Idaho, who was down in Quepos on his honeymoon with his equally fish-minded wife.  We sent them offshore fly fishing with our friends Benn & Manuel on the 31′ Jackpot and on their first day McKenzie landed a 150 lb blue marlin while on the second day Tobi landed his first sailfish after missing shots at a few others.  There are few places in the world where you can regularly fly fish for billfish and other pelagics with regularity, but Costa Rica is certainly one of the best destinations in the world if sailfish and marlin are on your bucket list.
If you still don't take our word for it on how good the billfishing is in April, look no further than the largest offshore fishing tournament in the world – the Offshore World Championship. For the 7th year in a row the Marina Pez Vela in Quepos, Costa Rica hosted the OWC and once again put on a great show.  This year saw 45 teams from 24 different countries competed on Costa Rican-flagged vessels only, rotating boats each day so there was no clear advantage.  Points were awarded for successful releases of marlin and sailfish as well as awarded on a per-pound basis for all mahi, yellow-fin tuna, and wahoo.  The final fish tally was 608 sailfish, 25 blue marlin, 2 striped marlin, 1 black marlin, and 20 mahi in four days of fishing.  Remember these anglers have to hook all their own fish and in Costa Rica it's strictly circle hooks, so the fish counts could have been even higher as several teams have no experience fishing circle hooks.  In the end the Oregon Tuna Classic was the winning team and our friends at Frenzy were the top boat.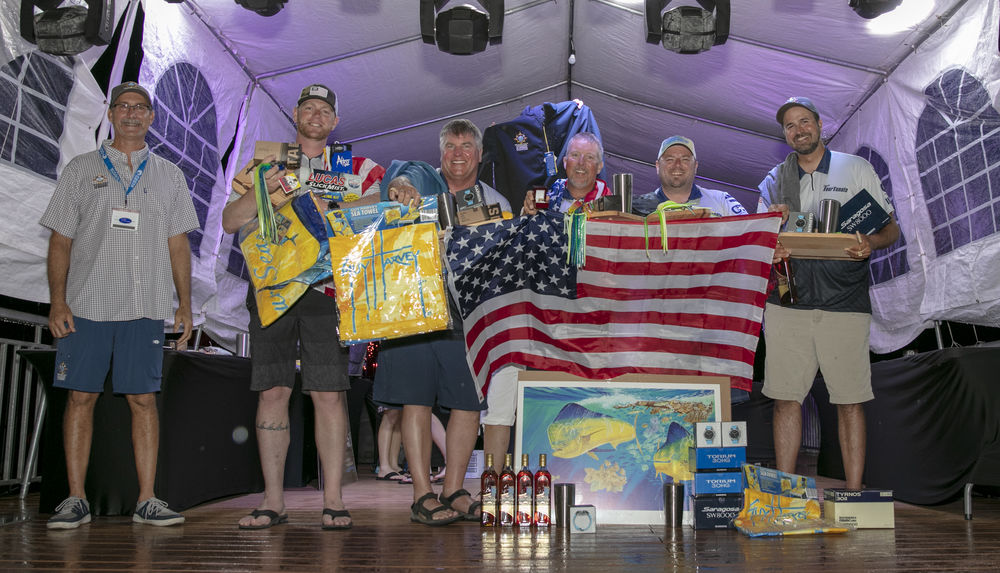 Below is the full day-by-day Costa Rica Fishing Report April 2019.
April 1 – Open Fly – 14 sailfish released
April 2 – Epic – Released 17 sailfish
April 3 – Pescadora – 7 sailfish, 2 tuna, 1 mahi
April 4 – Good Day Too – 4/8 on sails and 1 wahoo
April 5 – Reel Fly – 7 Sailfish released
April 6 – Spanish Fly – 14 sailfish
April 7 – Open Fly – 1 blue marlin, 2 sails, 2 mahi, 1 wahoo
April 9 – Reel Fly – 6 sailfish and 2 mahi
April 10 – Stress Reeliever – 5 sails and in by 1:00 PM
April 11 – Good Day Too – 2 sailfish and 1 striped marlin
April 12 – Reel Fly – 1 striped marlin and 6 sailfish
April 13 – Top Fly – 8 sailfish and 1 mahi
April 14 – Captain Tom's – 1 blue marlin and 6 sailfish
April 15 – Constellation – 13 for 18 on sails and one dorado
April 16 – Top Fly – 18 sailfish and a 60# dorado!
April 17 – Spanish Fly – 6 sailfish
April 18 – Sea Fly – 1 blue marlin and 5 sails
April 19 – Go Fish – 1 blue marlin and 4 sailfish
April 20 – Top Fly – 7 sails and 1 mahi
April 21 – Epic – 11 sails and 1 mahi
April 22 – Go Fish – 21 for 30 on sails!
April 23 – Gamefisher II – 15 for 21 on sails plus a 45# dorado
April 24 – Good Day – 11 sailfish released
April 25 – Spanish Fly – 14 sails released
April 26 – Gamefisher II – 7 for 12 on sails +1 blue marlin
April 27 – Spanish Fly – 3 blue marlin, 3 sails, 1 mahi and 1 tuna
April 28 – Good Day – 1 blue marlin, 7 sails, 2 mahi
April 29 – Captain Tom's – 5 sailfish & 4 dorado
April 30 – Spanish Fly – 1 blue marlin + 5 sailfish