February is one of the busiest months of the year to go
fishing in Costa Rica
, and despite lingering concerns related to the pandemic, this year was no different.  From billfish & tuna on the Pacific to tarpon on the Caribbean, even our freshwater rivers & lakes started producing big numbers, the bite was on yet again.  Below is our full Costa Rica Fishing Report – February 2021.
February started off carrying over momentum from the great billfish bite in January.  Unfortunately, that quickly lost steam and sailfish were suddenly hard to come by for three weeks.  The
Los Suenos sport fishing
fleet struggled to find more than five sailfish a day while the fleet fishing from Quepos was lucky to find more than one or two.  This was quite a drastic change from the end of January when boats were putting up double digit releases just 15-18 miles from port!  There were a few good days enjoyed by a fortunate boat or two that found a hot spot, but then the next day they'd fall back to Earth with long days of trolling with little action. For the most part the charter boats were working their tails off to see just a couple of
sailfish
a day, which is far from what we've come to expect in the middle of February.  Fortunately, and once again, the vast majority of fishing days during that dry patch were saved by the near daily presence of yellowfin tuna and/or a big dorado or two.
Fortunately during the final week of the month the billfish were found once again, but not where they usually are this time of year.  During
Costa Rica's peak billfish season
, the best bite is typically right in front of the sport fishing meccas of Los Suenos and Quepos. Last month the bite was farther north, up around the corner of the Nicoya Peninsula in front of Samara, Garza, and Carillo. Meanwhile the schools of yellowfin tuna, and there were 3-4 different ones, were found south of Quepos closer to Dominical and Drake Bay.  The way the February played out is the boats from Los Suenos and Guanacaste still put up decent billfish numbers while the boats in Quepos struggled to find billfish in numbers but usually had plenty of tuna to keep anglers happy. Below is the daily Costa Rica Fishing Report – February 2021, with the vast majority of the best billfish numbers coming from boats out of the Los Suenos Resort.
Feb 1 – Captain Tom – 12 sails, 5 tuna, 2 mahi
Feb 2 – Circle Hook – 12 sailfish and 1
marlin
Feb 3 – Good Day – 7/8 on sails
Feb 4 – Top Fly – 14 sailfish released and 1 dorado
Feb 5 – Circle Hook – 6 sailfish released
Feb 6 – Wet Ass II – 1 blue marlin and 2 sails released
Feb 7 – Satis Fly – 2 sailfish and 4 tuna
Feb 8 – Go Fish – 3/4 on sails and 2 dorado
Feb 9 – Good Day – 5 or 7 on sailfish + 3 tuna
Feb 11 – Good Day – 3 sailfish, 2 tuna, 1 dorado
Feb 12 – Open Fly – 1 blue marlin, 4 sails, 1 dorado
Feb 13 – Straight Up With a Twist – 1 blue marlin + 3/5 on sailfish
Feb 14 – Gamefisher II – 10 for 15 on sails + mahi
Feb 15 – Big Eye II – 7 for 14 on sails
Feb 16 – Good Day Too – 1 blue marlin, 3 sails, 1 wahoo
Feb 17 – Epic – 1 blue marlin and 3/5 on sails
Feb 19 – Epic – 8/10 on sailfish and a big mahi
Feb 20 – Open Fly – 9 sailfish
Feb 21 – Sea Fly – 4 sailfish + 1 mahi
Feb 22 – Open Fly – 10 sailfish + 1 dorado
Feb 23 – Geaux Fly – 1 blue marlin, 9 sails, 2 yellowfin tuna
Feb 24 – Wet Ass II – 11 for 14 on sails + two
dorado
Feb 25 – Hoo's Your Daddy II – 11/11 on sails + 2 mahi
Feb 26 – Good Day Too – 10 sailfish released
Feb 27 – Geaux Fly – 9 sailfish + 4 yellowfin tuna
Feb 28 – Captain Tom – 7 for 8 on sailfish
February also saw more major billfish tournaments in Costa Rica, including the second leg of the Los Suenos Triple Crown and the women's only one-day tournament.  The women's only tournament saw 11 teams release 126 sails and 3 marlin on the Tuesday before the Triple Crown.  The winning boat was DA Sea with 22 sailfish.  The second leg of the Triple Crown was held at the end of February this year (24-27), which turned out to be a good thing as the billfish bite got a bit closer to close the month.  In all 38 teams released 1,075 billfish in three days (1053 sailfish and 52 marlin).  The winning team was Uno Mas with an epic come-from-behind victory on the final day.
Fortunately Costa Rica isn't a one trick pony, so there was plenty of action to keep anglers busy.  The
inshore fishing in Costa Rica
was phenomenal, with many boats catching 5-10
roosterfish
a day.  There weren't a ton of big Pacific snook around, but there was a lot of variety with jacks, bluefin trevalley, and several species of snappers. The best inshore action was around Quepos, but boats down in Drake Bay and up in Los Suenos also caught several of the same species.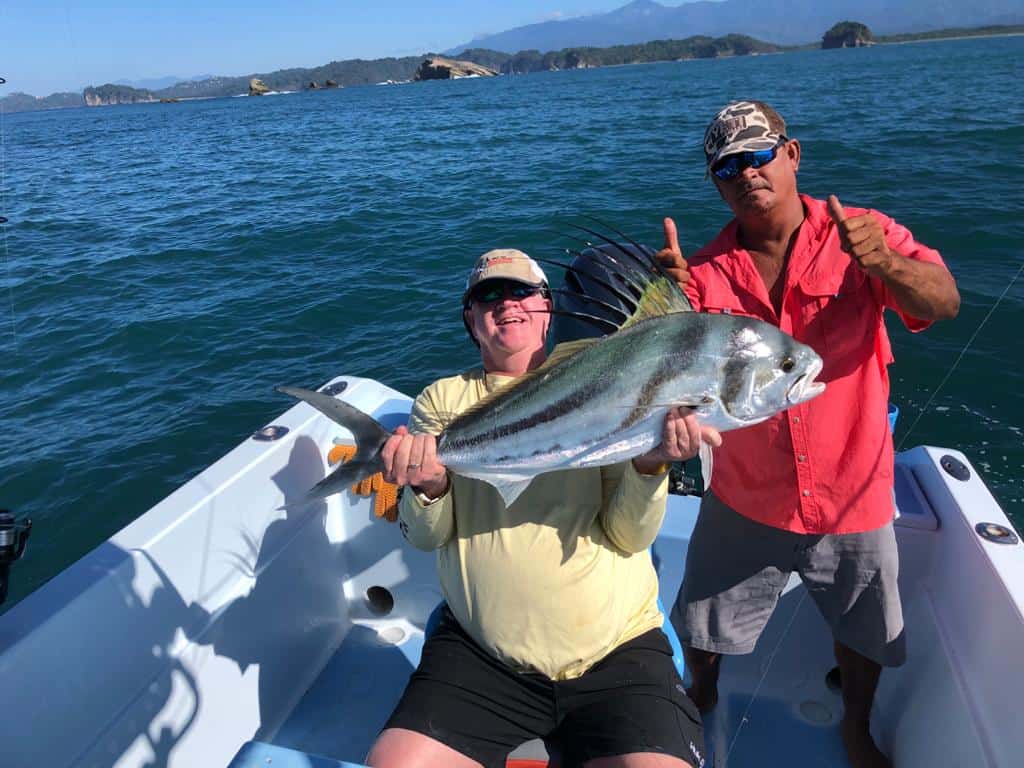 Over on the Caribbean, anglers persevered through a couple of cold fronts that made the seas choppy and managed to do battle with tarpon on a near daily basis. One of the great things about
Costa Rica tarpon fishing
is that the fish are almost always around, we aren't dependent on the annual migration.  Thanks to several major river mouths, including the famous Rio Colorado, there is always plenty of bait to keep big, mature tarpon in the area year round.  That plays a huge role in the success of our tarpon anglers because even if they can't get out of the river mouth and into the open ocean due to high seas, there are still plenty of tarpon patrolling the river mouth that can be targeted. That was the case for much of February thanks to rough seas, but anglers managed to jump and release several tarpon on a near daily basis – including fly fishing for tarpon!